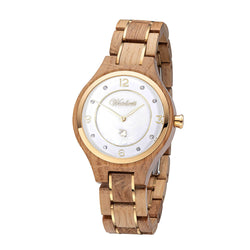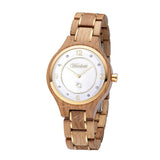 Waidzeit Wine Princess Champagné
Exquisite and remarkably beautiful is this barrique wine watch with the fitting name "Wine Princess Champagné". 
Its white mother-of-pearl dial with golden elements and crystal stones underline the beauty of this barrique wooden watch from Waidzeit. In addition, the gold-colored stainless steel ring completes the construction in a perfectly smooth way. Each barrique Wine Princess has its own special charm, as it is produced from original barrique wine barrels, which have been used for wine maturation in France and Austria. Now, a completely new, sustainable and innovative approach has been taken, resulting in beautiful feminine timepieces. Each wine watch has its own story to tell and is a perfect choice for every nature and wine lover!
Details of the Wine Princess wristwatch: 

Miyota movement I 2 years warranty on the movement
Golden-colored wine leaf and crystal stones
Stainless steel crown I Stainless steel chain
High-quality wooden box included as packaging
Case diameter: 35 mm 
Wooden strap with butterfly closure: 16 mm
The strap comes in a standard size and can be adjusted with a small slotted screwdriver.
Battery included