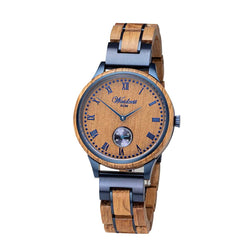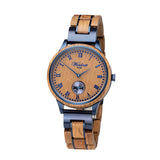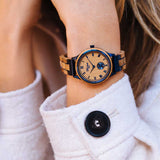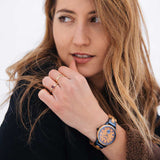 Waidzeit Rum Barrel Lady watch
Having a pleasant, flattering aroma, rum is becoming more and more popular as an "high-society drink". No wonder that we from Waidzeit Design create beautiful timepieces from time-honoured rum barrels. The colour combination of a warm oak barrel wood with blue stainless steel is particularly beautiful and noble and thus an excellent accessory for everyday life but also for special occasions. 

A Rum wristwatch from Waidzeit Design should emphasise the time for something special and underlines the value for craftsmanship, sustainability, and pleasure! 

Details of the Rum wristwatch: 
Miyota movement

1L45

I 2 years warranty on the movement
Stainless steel inner case embedded in a rum oak barrel
Stainless steel crown
Minor second made with stainless steel
Case diameter: 36 mm
Wooden strap reinforced with stainless steel: 16 mm
Battery included
High-quality wooden box included as packaging