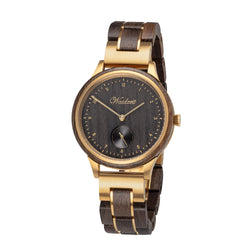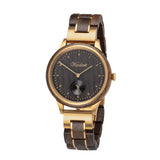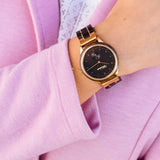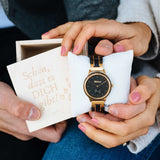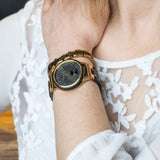 Waidzeit Mystic Gold Lady watch
The origin of the word mystic comes from the Latin word "mysticus" which means "mysterious" and thus gives the perfect name to this very special Waidzeit Design watch. Through the complex incorporation of bog oak in the dial, the watch case and the wristband, this wooden wristwatch bears the soul of ancient oak trunks that have lain in bogs and marshlands over a period of centuries. The colour combination of mystical dark bog oak with golden stainless steel is particularly beautiful and noble. An ideal companion for everyday life but also for special occasions.  
A Mystic Gold wristwatch from Waidzeit Design should emphasise the time for something special and underlines the value for craftsmanship, sustainability, and pleasure! 

Details of the Mystic Gold wristwatch: 
Miyota movement

1L45

I 2 years warranty on the movement
Stainless steel case framed in bog oak
Stainless steel crown
Minor second made with stainless steel
Case diameter: 36 mm
Wooden strap reinforced with stainless steel: 16 mm
Battery included
High-quality wooden box included as packaging