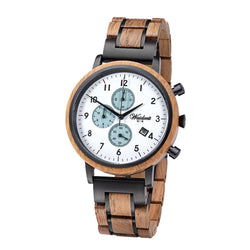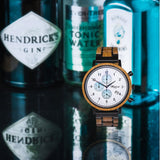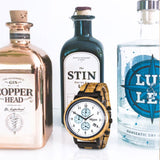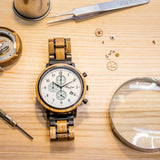 Waidzeit GIN White Ice Chronograph Gentlemen watch
Gin on the rocks?! 
Nowadays you can hardly imagine an evening or a cozy night without having a glass of gin. Gin is the most popular drink among alcoholic beverages and is enjoyed by all age groups. No wonder that even we from Waidzeit Austria got a taste for gin. This chronograph carries the soul of gin through the sophisticated integration of juniper wood in the dial. Also, to the remarkably beautiful juniper design, both the case and the strap of the wooden watch are made of recycled barrique oak barrels. 
On the rocks is a cocktail term that means it is served over ice, which is why this Waidzeit Chronograph got its name "Ice" and explains why the dial is kept in "Iceblue". An effortlessly cool "companion" for men with style and sophistication. 
Details of the Gin Chronograph wristwatch: 
Miyota movement OS10 I 2 years warranty on the movement
Stainless steel inner case embedded in barrique oak
Stainless steel crown
Date display
Juniper wood dial
Stop function
Case diameter: 42 mm
Wooden strap reinforced with stainless steel: 20 mm
Battery included
High-quality wooden box included as packaging