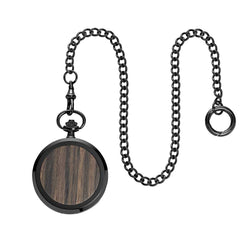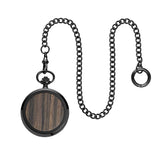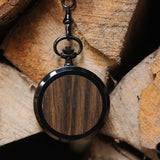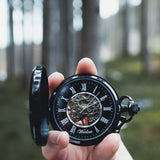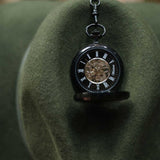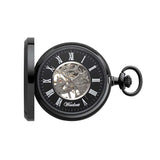 Waidzeit Franz Theodor Skeleton pocket watch black
The black sheep in our Franz Edition is clearly our Franz-Theodor! 
It has white Roman numerals on the dial and a window on the mechanism. In addition, the stainless steel case on the back is also equipped with a window on the movement. The finest components are used: bog oak, mineral glass and black-plated stainless steel. The watch comes with a stainless steel chain. 

In addition, an individual engraving on the outside of the spring cover makes this Waidzeit pocket watch an unforgettable one-of-a-kind. 
Pocket watch details:
PTS 2650 SK I 2 years guarantee on the movement; 

Housing made of stainless steel, spring cover with bog oak finish 

Stainless steel crown | Stainless steel chain




High-quality wooden box included as packaging

Case diameter: 48 mm 
Manual winding operation:
The skeleton pocket watch from Waidzeit is put into operation by winding (turning the crown) to the pressure point. The clock then runs for approx. 42 hours.