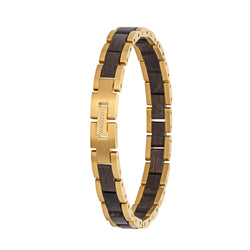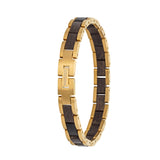 Waidzeit Element Bracelet Women Gold with bog oak
This special element bracelet for women made of dark bog oak and gold brushed stainless steel impresses with its uniqueness. Due to the complex processing of the bog oak, this element bracelet carries the soul of ancient oak trunks that have lain in bogs and marshlands over centuries. The colour combination of dark bog oak with golden stainless steel is particularly beautiful and noble. Besides, an additional element in stainless steel can also be engraved individually at any time. The element bracelet is an excellent addition to your Waidzeit wristwatch or even solo an absolute eye-catcher. Furthermore, an exquisite gift box is also included free of charge.
A very original gift for women with class and excellent taste!
Details of the Element Bracelet: 
Bracelet length: 19,5 cm individually adjustable
Bracelet width: 9mm
Packaging and customization tools are included free of charge.