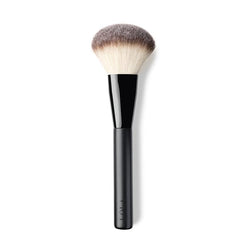 Our Powder Brush has a unique, invisible curl to its hairs, meaning it can easily pick the maximum amount of product, whilst still achieving a well-blended look. Its domed shaped makes it the perfect brush to evenly distribute powder over your skin for a flawless finish. The fullness of the synthetic hair makes it ideal for mattifying shine or providing a subtle tone of colour, with its soft fibres allowing you to adjust and build the amount of coverage.
Characteristics & Benefits
Suitable for all skin types

Smooth application

Blends product evenly

Adjustable coverage

Synthetic hair

Cruelty free

100% Vegan
TO USE
Gather a small amount onto the brush and apply using long sweeping movements across the face. Repeat the process to build up coverage to the desired amount. Always keep the brush clean, so that it can blend the product and not drag it. Clean with anti-grease soap after each use to keep the hair in perfect condition and dry in a horizontal position.
Works well with: Face & Body Bronzer, Matte Silky Finish Powder, Universal Powder and Shimmer Powder, Contour Kit