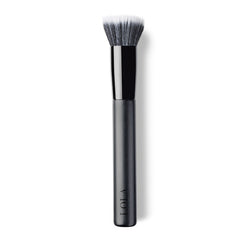 Our Finishing Brush is specifically designed to achieve the perfect finish on your skin. With its two types of synthetic hair, it manages to hold the exact amount of product for a perfect blended finish. The synthetic hair also allows for easy, friction-proof application and creates a completely natural flawless look. 
Characteristics & Benefits 
 Specific brush for perfect finishes 
 Ideal for all types of make-up products, both liquid and powdered.
 Synthetic hair.
 Ideal for medium and low product coverage on the skin 
 Easy application 
 Cruelty Free
 100% Vegan
TO USE
The best way to use this brush is to take the required amount on the brush and start working it from the nose to the outside of the face. Repeat the process for more colour coverage. Always keep the brush clean, which will help to apply the product and not drag it across the skin. Clean with anti-grease soap after each use to keep the hair in perfect condition and dry in a horizontal position. 
Works well with: All LOLA foundations, Face & Body Bronzer, Matte Silky Finish Powder, Universal Powder and Shimmer Powder