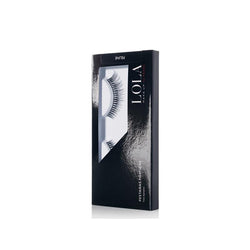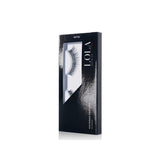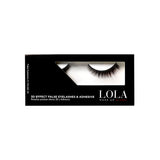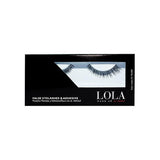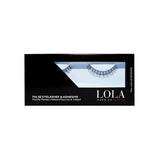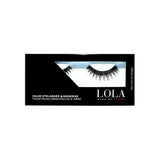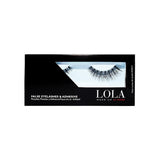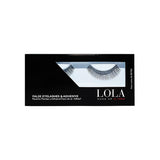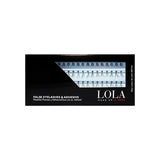 Lola False Lashes (Variation)
LOLA False Lashes are an excellent way to increase the length and volume of your eyelashes in an instant. Easy to use and versatile, they can enhance your appearance and makeup look. 
From Feline to Vintage, Glam to Romantic, we have a wide of range of False Lashes to suit your individual style, with adhesive included also. 
Feline
Bevelled cut eyelashes that increase in length on the outer corner to achieve almond eyes and a feline look.
Results:
Longer looking external eyelashes
Almond eyes effect
Feline look
Vintage
Layered false lashes of different lengths for a three dimensional effect: curve, length and volume.
Results:
Longer looking eyelashes
Curved eyelashes
Voluminous eyelashes
Romantic
Eyelashes designed for women who have sparse eyelashes and are seeking to enhance their lashes but retain a natural look. These false eyelashes achieve extra length to the centre of the eye giving a sweet romantic finish while optically widening the eye.
Results:
Longer looking eyelashes in the centre of the eye
Softened look
Widens the eyes
Retro
Thin, natural curve and extra-long false eyelashes, perfectly defined for an extreme length look.
Results:
Extreme length look
Natural effect
Defined look
Glam Effect
Slightly intertwined eyelashes with increased length at the tip for almond eyes effect and to strengthen your make-up look.
Results:
Longer lashes at the tip
Almond eyes effect
More intense eyes
Lash Define
Individual eyelashes to achieve a custom look, adding volume and length with maximum ease.
Results:
Long buildable false eyelashes
Create a natural, sophisticated look
Custom look
TO USE
Lashes should be applied after you have completed the rest of your eye make-up but before mascara application.
To apply
Size the lashes: Lashes can be cut to size with scissors according to the length of your lash line. If you are cutting to size, cut the excess from the outer side of the lash.
Apply a thin even layer of adhesive (included) along the spine of the lash and wait 30 seconds for the glue to go tacky.
Then apply the lash just above your own lashes using tweezers, and gently apply pressure.
Allow the glue to dry.
Apply mascara to your lashes. This will help blend your natural lashes with the false ones, achieving a more natural look.
Apply more eyeliner: Be sure to fill in any gaps between the false lashes and your own to make them look more natural.
To merge the false lashes perfectly with your natural lashes, apply a coat of mascara.
To remove, close the eyes and support the outer corner of your eye. Gently hold one end of the lash and peel away slowly.
If you store your lashes carefully, you can reuse them two or three times.
INGREDIENTS
ACRYLATE/ETHYLHEXYL ACRYLATE COPOLYMER, AQUA