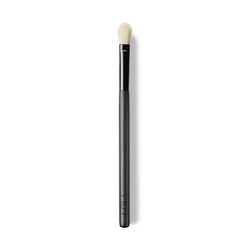 Lola Eyeshadow Blending Brush
Our Eyeshadow Blending Brush has been specially created in the perfect shape for the blending of powder pigments and shading of shadows. 
It's gentle on the curves on your eye whilst allowing you to create a professional finish. The synthetic hair of this clever brush is ideal for smudging for smoky eyes, mixing pigments between shades or applying shadows in large areas.
Characteristics & Benefits
Suitable for all skin types

Blends product evenly

Shaped to suit application to the eyes

Synthetic hairs

100% Vegan

Cruelty Free
TO USE
Place the brush into the eyeshadow, tap off any excess eyeshadow, and then apply the pigment to the entire eyelid. It can also be used on its own without product, to blend different shades. Always keep the brush clean, so that it can blend the product and not drag it. Do not mix different textures of eyeshadow, since the hairs of this brush are very long and dense, it would not leave a good finish on the skin. Clean with natural soap and warm water to keep the hair in perfect condition and dry in a horizontal position.
Works well with: All LOLA eyeshadows