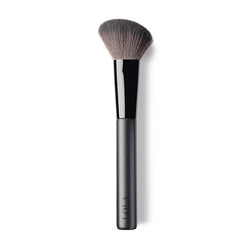 Our Blush Brush achieves optimal colour coverage that gives that natural, healthy glow. The gentle angled shape of the brush follows the contours and bone structure of your cheeks and temples, allowing you to blend the colours evenly and without streaking.
The natural-feeling, synthetic fibres ensure a smooth distribution of product that you can apply evenly to your face with precision and control.
Characteristics & Benefits
Suitable for all skin types

Gently angled

Synthetic hair 

Smooth application

Cruelty free

100% Vegan 
TO USE
Place the brush into the product you wish to use and gather a small amount on the brush. Apply to the cheeks from the temple to the middle of the cheekbone. Apply it with short strokes and blend well to create a smudged effect. Repeat process to build colour coverage. Clean with natural soap and warm water to keep the hair in perfect condition and dry in a horizontal position.
Works well with: Blush Duo, Blush Mono, Contour Kit