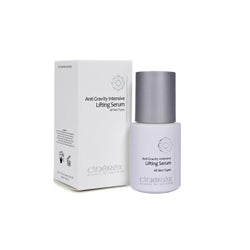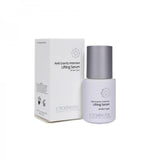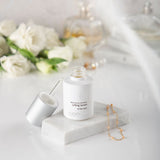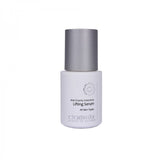 Cinere Anti Gravity Intensive Lifting Serum 30ml
Cinerex Anti Gravity Intensive Lifting Serum has been specifically formulated to target the primary cause of loss in elasticity in mature skin. Cinere Anti Gravity Intensive Lifting Serum dramatically improves collagen and elastin functionality that begins to decline after the age of 40. It also helps restore the skin's renewal process by stimulating the germinal cells. The results are a healthier appearance, plumper looking skin, radiant complexion, silky smooth texture and increased skin tension. This highly concentrated serum visibly firms, tones and smoothes out irregularities. Marine Algae extract, Vitamin C and Protein Peptides tighten the skin which reinforces the firming effect.
Ingredients
1. Palmitoyl Oligopeptide and Palmitoyl Tetrapeeptide - 7 make the regeneration of skin possible by speeding up new collagen production.
2. Natural Protein Peptides trigger skin regeneration and stimulate the body's own natural mechanisms to give skin a naturally youthful appearance.
3. Vitamin B12 & Vitamin C work as effective antioxidants to protect, enrich and soften the skin whilst helping to fight against damaging free radicals.
4. Soybean and Hydrolysed Rice Bran Protein promote collagen and elastin production; the two most important components of human skin connective tissue.
Cinerex Anti Gravity Intensive Lifting Serum reduces the destructive processes that break down collagen and elastin whilst stimulating new production.
Benefits
Immediate Benefits:
Cinerex Anti Gravity Intensive Lifting Serum helps strengthen each layer of skin which visibly lifts, tones and defines facial structures; mimicking the appearance of a natural facelift. Upon application you will feel a tightening and firming effect, fine lines and wrinkles will begin to fade and your skin will feel lifted, toned, revitalised and refreshed.
Long Term Benefits:
Cinerex Anti Gravity Intensive Lifting Serum contains a unique blend of 6 active ingredients. It works by increasing cell contraction in the epidermis, improving the structural fibres in the dermis and strengthening facial muscles. Cinerex Anti Gravity Intensive Lifting Serum is a revolutionary treatment in the fight against ageing and sagging skin; formulated to increase muscle tone, strengthen the skin's structural fibres and increase cellular contraction. It also nourishes and protects the skin against free radicals and triggers elastin and collagen production, which helps repair damaged tissue and scars. Skin is left feeling firm and elevated with a youthful and naturally beautiful appearance.
Directions
Cleanse using your favourite Cinere cleanser followed by Cinere Herbal Energising Cleansing Toner. Apply several drops of Cinerex Anti Gravity Intensive Lifting Serum to fingertips of one hand, touch together and massage gently into the face and neck twice a day using small circular motions until it has been completely absorbed. Allow serum to penetrate the skin before applying moisturiser.
Recommendation:
For the best results use Cinerex Anti Gravity Intensive Lifting Serum and Cinere Advanced Collagen Firming Lift Cream twice a day.
Safety Warning
For external use only. Avoid direct contact with eyes. If contact occurs, rinse thoroughly with water.
Store in a cool, dry place. Keep out of the reach of children.