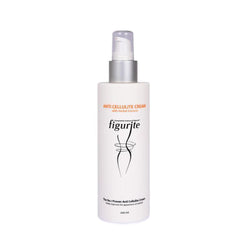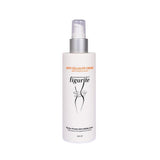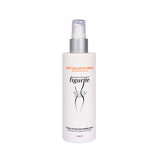 Figurite Figurite Anti Cellulite Cream 200 Ml
Figurite Anti Cellulite Cream is based on a synergistic combination of natural ingredients that begin by working beneath the uneven layer of skin on the bottom, hips and thigh area. The non greasy, silky smooth texture is quickly absorbed, leaving skin feeling firm and toned with a youthful appearance. In just a few weeks, targeted areas become noticeably firmer and visibly smoother. The skin's elasticity is vastly improved as the unsightly "orange peel" appearance begins to disappear.


Advantages

:



• The No.1 natural based anti cellulite cream

• The revolutionary solution tocombat the appearance of cellulite

• Consumer trials show proven resultsin just 4 weeks

• 95% of participants agreed skinfelt firmer, smoother and tighter

• Coenzyme-A and Bupleurum Falcatum extract activate the lipolysis process

• Significantly and noticeably reduces the appearance of cellulite

• Breaks down fatty tissue beneaththe deeper layers of skin

• Contains stimulating Caffeine and Menthol extracts to reduce fat accumulation

• Reveals youthful skin that feelsfirmer, smoother, tighter and softer

• Lightweight formula for fast andeasy absorption

• Visibly results seen on all grades of cellulite

• The effortless, hassle free way torid yourself of cellulite

• Suitable for all skin types

Paraben Free
Directions
Apply a liberal amount of Figurite Anti Cellulite Cream to the desired areas twice a day. Using firm circular motions, massage into the skin until the cream has been completely absorbed.
Safety Warning
For external use only Avoid contact with eyes. If contact occurs, rinse thoroughly with water.
Box Contains
1 X Figurite Anti-cellulite cream 200 ml
Ingredients
Water
Glyceryl Stearate
Cetearyl Alcohol
Jojoba oil
Butyrospermum Parkii (Shea Butter) extract,
Helianthus annuus seed oil
Dimethicone
Squalane
Cylomethicone
C12-15alkyl Benzoate
1,3 _butylene Glycol
Glycerine
Xanthangum
Hydroxyethyl acrylate
PEG 100 Serate
Qanzym A,
Sodium acryloyldimethylltaurate Copolymer
Menthyl Lactate
Chenopodium Quinoa seed extract
Sorbitan laurate
Ceteareth-20
Lauroyl Proline
Peg 8-Bupleurum Falcatum(extract)
Polysorbate60
Caffeine
Menthol
Fragrance
Phenoxyethanol